The Best Improvement Projects to Increase Your Home's Value
The Best Improvement Projects to Increase Your Home's Value
Many property owners tackle home renovations like kitchen and bathroom remodeling to accommodate their family's changing needs and style preferences. For example, you may want to upgrade to new smart home technology for the added convenience it brings to your daily life.
Some financially savvy people renovate because they want to command a higher selling price when putting their homes on the market. If that's the case for you, you should choose projects based on their return on investment. The Cost vs. Value Report is a good starting point to determine the national average of various home improvements.
Top 5 Highest-ROI Home Renovation Projects
Depending on the project, homeowners in the South Atlantic region can expect to recoup an average of 58% of the money they spend. Still, some improvements have an even higher ROI than that. Here are the nation's top five highest-ROI home improvement projects.
1. HVAC Conversion
Average cost: $17,747 nationally/$18,040 South Atlantic region
Average resale value: $18,366/$15,647
ROI: 103.5%/86.7%
Converting a gas furnace into an electric heat pump is currently the top renovation project. As many people look to lead more sustainable lifestyles, they appreciate easy ways to increase their energy efficiency at home. A heat pump saves you money on energy bills because it doesn't burn natural gas.
2. Garage Door Replacement
Average cost: $4,302/$4,567
Average resale value: $4,418/$4,524
ROI: 102.7%/99.1%
Replacing your garage door is one of the most affordable high-return home improvement projects. It's the second highest-ROI project in the South Atlantic region and nationally. Your garage door draws attention and affects your house's curb appeal. By investing in a stylish garage door, you'll also gain access to new technology that helps your garage door operate more smoothly and efficiently.
3. Replacing Skirting
Average cost: $10,925/$10,377
Average resale value: $11,177/$11,300
ROI: 102.3%/108.9%
Exterior home improvements are in high demand, and one of the most popular ones is replacing vinyl siding with manufactured stone veneer. Manufactured stone veneer is trendy because it makes your home more aesthetically pleasing and luxurious, thereby increasing its curb appeal.
4. Entry Door Replacement
Average cost: $2,214/$3,811
Average resale value: $$2,235/$2,007
ROI: 100.9%/52.7%
Replacing your entry door with a new steel one offers a high ROI and makes your home more secure. Don't assume you have to stick with a solid white door — steel doors have many customization and design options. You can choose a steel door with a shimmering glass panel and decorative frame that resembles wood.
5. Replacing Siding
Average cost: $16,348/$14,893
Average resale value: $15,485/$14,667
ROI: 94.7%/98.5%
When you replace your existing siding with new vinyl siding, you restore your home's original beauty. On the outside, your home will look like it did when it was brand-new, so replacing your siding is one of the top home improvement projects.
Increase Your Home's Value With a New Garage Door
The top five home improvement projects increase your home's curb appeal, attract more buyers and give you the most bang for your buck.
Replacing your garage door is one of the top renovations, and arguably the best to undertake, with minimal upfront costs and a high ROI. Additionally, it offers many benefits beyond improving your home's resale value, such as gaining an up-to-date door with the latest smart home tech.
If you decide a new garage door is the right home improvement project for you, turn to the experts at RCS Garage Doors Carolinas for a helping hand. Our team of professionals can recommend the ideal choice for your lifestyle and aesthetic preferences. You can also check out our garage door imagination system to design the garage door of your dreams. Contact us today to learn more or schedule an installation.
Properly Winterize Your Garage Door

Properly Winterize Your Garage Door
Winter is tough – even if you love snow! You know what else might agree? Your garage door, especially if you have a mishap and find yourself needing emergency garage door service. Is your garage door ready for the quickly approaching winter season? It is important to remember that your garage door should be properly prepared for the colder weather to come. The good news is that there are a few things you can do to prevent a problem that disrupts your day. Winterizing your garage door only takes 30 minutes, but your comfort level will go up exponentially as a result. Here are some winter tips to keep your garage in good condition.
1. Call for Maintenance
Getting your garage door serviced before winter or at least before you need to call for emergency garage door service is a good way to avoid needing to make that call. A professional will test the garage door balance, lubricate the moving parts, replace the weather stripping (if needed), inspect and replace the rollers, check the cables, clear the tracks, and take a host of other preventative measures to make certain your garage doors are ready for action regardless of the weather.
Call (704) 523-8063 for Commercial Door Repairs
2. Replace the Remote Batteries
Your garage door opener remote batteries are designed to only last one year. It is recommended that you either replace the remote batteries before winter or keep a spare set of batteries on hand to avoid being forced out into the cold to manually open the door.
3. Check Your External Keypad
For added security, many homeowners now have an external keypad to open their garage door. Remember to check the 9-volt battery in your garage door keypad as well in order to ensure that it has plenty of juice for the cold winter months ahead.
4. Inspect the Springs to your Garage Door
Before performing this important task, remember to disable your garage door opener. You do this by pulling on the emergency cord. You will then want to open the garage door manually. If you found this easy to do with one hand, then the springs are in great working order. If it was difficult to open, you will want to determine the cause. Do not try to fix this yourself! Call us at RCS Garage so one of our technicians can find the problem and fix it properly.
5. Check out the Weather Stripping
You want to make sure the weather-stripping on the outside of your garage door frame is adequately functioning. If you see any damage or the stripping itself has hardened because of heat exposure, you will want to replace it. Remember, if it is made of PVC, you will want to use a silicone-based lubricant. While you're at it, look at the weather-stripping on the bottom of the garage door as well. If it looks damaged, you should go ahead and replace it as well.
Need winter garage help? Contact us to get your garage ready!
6. Lubricate the Metal Parts
You will want to give each of the metal parts of your door proper lubrication prior to winter's arrival. This includes the springs, track, and rollers.
To begin, take a dry cloth and remove any excess lubricant from past applications, in addition to any dust that might be present. A lubricant that is oil-based, such as 10W-30 motor oil, is recommended. Apply the lubricant sparingly, and wipe away any of the excess oil with a cloth. Avoid using products like WD-40. Those products are degreasers – not lubricants – they will actually damage your garage door!
7. Inspect the Automatic Reversal System
There are two variations to this: mechanical and photoelectric. Here are some general guidelines for each:
Mechanical – Put a small, strong object, such as a block of wood or a brick, at the threshold of the door, where it would close. Make sure nothing (and no one) else is in the way, then push the button to close the door. Once the door hits the object, it should detect some resistance. At this point, it will reverse and open back up. If it fails to do this, you will want to look at the manual that came with your garage door to determine how to make the necessary adjustments.
Photoelectric – Hold your hand or foot out in front of the beam while the door is closing. If the door does not stop and open back up when it detects your movement, then the most likely problem is a misalignment between the parts. Contact us as soon as possible to get this fixed – before someone gets hurt or your car gets damaged.
8. Have Your Vehicle's Brakes Checked
Winter is not the time to have your brakes fail. Well, no time is really, but if you are finding it takes longer to stop than usual, that's only going to be worse on slick, icy roads. It might surprise you how many emergency garage door service calls result from damage caused by driving into the closed door before it can rise completely.
9. Keep the Driveway Clear
Even great brakes can't help if you hit a patch of ice on your driveway and slide into your garage doors. While you are at it, be sure to keep snow away from the garage door itself so it doesn't interfere with the safety feature.
10. Listen to Your Door
Every time your garage door cycles, you should be listening and watching for anything unusual. If the door is moving in an uneven fashion or making odd noises, call for service, as the next time it might not open or close at all.
Contact RCS to Stay Safe This Winter
Following these tips should help you avoid any major problems with your garage door during the winter months. If you would like to get your garage door serviced to avoid a problem later or if you are in the middle of an emergency garage door service situation at your Charlotte, North Carolina home, give us a call at RCS Garage Doors. We have 24/7 availability so you won't have to head off to work or go to sleep worried that your home isn't protected because your garage door isn't secure. We guarantee we will arrive on time and take care of repairing your door to your complete satisfaction.
If you want a professional to ensure your and your family's safety this winter, contact us today!
Call (704) 523-8063 for Commercial Door Repairs
Why Won't My Garage Door Close?
When leaving for work this morning or returning home, was your garage door refusing to close? While an uncooperative garage door is inconvenient for homeowners, several possible explanations exist for why your garage door is not closing.
The most typical reasons your garage door won't close are mechanical issues or a garage door opener motor malfunction. You can repair some of these garage door issues with minor adjustments. Other problems are too complicated or hazardous for homeowners to replace themselves and require the assistance of a local garage door repair company.
Why Won't My Garage Door Close?
If you're dealing with a garage door that won't close, it's more than a harmless nuisance. Most homeowners store valuable possessions in their garages, such as vehicles, bikes, tools and much more. A garage door that stays open even a little bit invites critters, pests and passersby inside. The purpose of the garage door is to protect your home and belongings from such invaders. So if it isn't closing, it's not serving its purpose.
As you look for the cause of your garage door closing problems, note whether the garage door won't close all the way, won't close with the remote or if the motor is running but the door won't lower. If your garage door won't even close manually, you have a serious problem.
To determine why your garage door is malfunctioning, it's best to understand the possible causes and try several safe troubleshooting methods. That said, before you go to great lengths to determine the cause, make sure you check the power source! Although this may seem obvious, it's also easy to forget. Once you've made sure the garage door opener is receiving power, check out these common causes of garage doors that refuse to close.
Faulty, Obstructed or Dirty Sensors
One of the most common reasons for a garage door that won't close is faulty or dirty sensors. Your garage door sensors are located near the bottom of your garage door, approximately 6 inches above the ground. They face each other and send signals across the garage door width. These signals detect any object, person or animal in the garage door path and prevent it from closing.
Sensors are watchful eyes that keep you, your loved ones and your possessions safe. Yet the sensors aren't foolproof 100% of the time. They may mistake a speck of dirt in their line of sight for something that requires saving, for instance, and heroically stop the garage door from going further. Other times, there may be an issue with the sensors themselves.
A dirty sensor only needs a microfiber cloth and a little water to fix. Likewise, repairing an obstructed sensor only involves removing the obstructing object. A faulty sensor requires increased repair work or replacement.
If the sensors are clean without anything obstructing their view, check if they're correctly aligned. Misaligned sensors send continuous obstruction signals. They may blink if they're misaligned. If they're aligned, make sure they receive power and check the wiring for damage. If the wires are damaged, you'll need to replace them. If you've checked over everything and still can't find the issue, it's likely a sensor failure. If so, you'll need a new sensor.
Bent or Blocked Tracks and Rollers
Your door tracks and rollers provide the pathway for your garage door to open and close. So if either the tracks or rollers are bent or blocked, it may prevent the garage door from closing.
The solution to blocked tracks or rollers is to remove the blockage. Another solution may be to grease the rollers with white lithium or a silicone-based product. If too many rollers are stuck, your garage door may respond like it's hitting something.
Bent tracks and rollers can occasionally be repaired, but they usually need replacement. If you're unsure if the bent tracks or rollers are repairable or need replacement, call in garage repair professionals for an inspection. You should also leave repairs and replacements to the professionals.
Travel Limits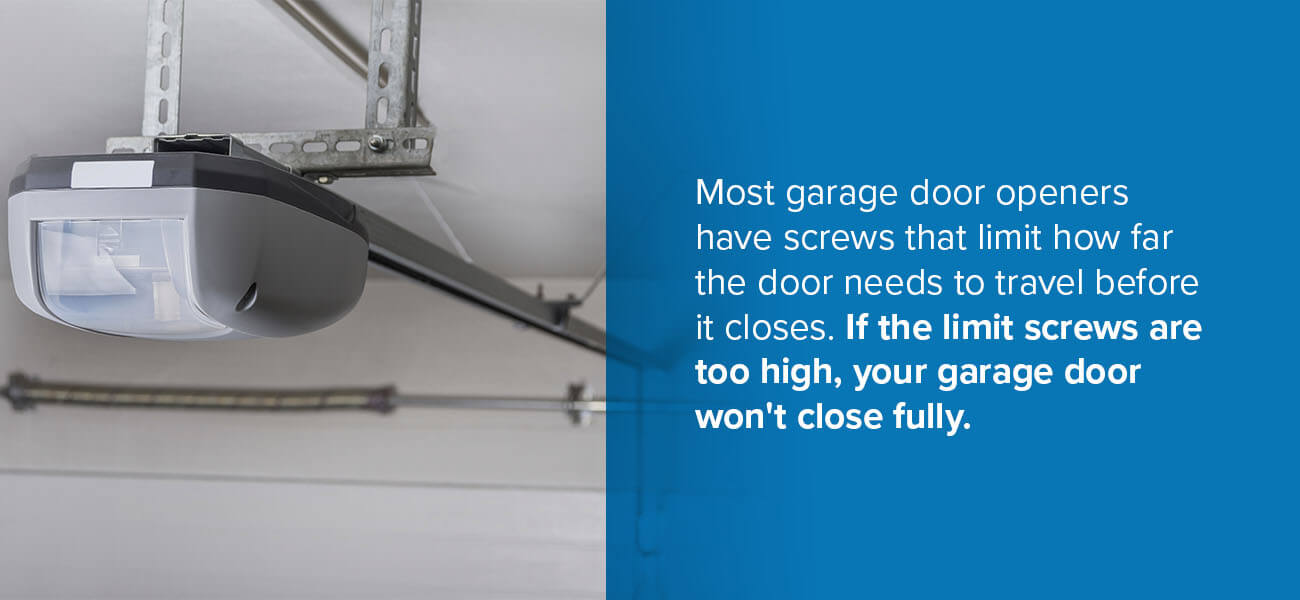 Most garage door openers have screws that limit how far the door needs to travel before it closes. If the limit screws are too high, your garage door won't close fully.
Incorrectly set travel limit screws are easy to fix. All it takes is a screwdriver and turning the screws until they are at the right setting. You can refer to your manual to determine how much you need to turn the screws.
You can find the limit adjustment screws underneath the rear flap or light cover on the opener. There will be one screw that adjusts the upward travel distance and another for the downward travel distance, labeled "up" and "down." Make sure you use a sturdy ladder to reach the garage door opener.
Broken Springs
Having broken torsion or extension springs is a possible reason your garage door won't properly close. Springs are designed to last a determined number of cycles before finally wearing and breaking. Torsion springs will last up to 20,000 cycles, while extension springs are expected to reliably function up to 10,000 cycles. Once the springs have broken, it may cause the garage door to become misaligned and not close properly.
If you are at home when this happens, you will likely hear it! Garage door springs sound like firecrackers or gunshots when they break. Due to the danger involved, don't attempt to open or close a garage door with broken springs. Instead, call a professional garage door repair service to do the job. Attempting to repair broken springs or install new ones on your own can easily lead to further damage or serious injury to yourself or others nearby.
Worn Cables
Like the garage door torsion or extension springs, cables are also responsible for controlling smooth, safe and reliable garage door movement. Thus, worn cables can also disrupt proper garage door closure. Typically, when the garage door springs break, the cables will need to be replaced. Due to the dangerous nature of replacing garage door springs and cables, a professional should perform the replacement.
Dead Remote Batteries
Sometimes repairing your garage door requires the simplest solution. If you're pressing the button on your garage door remote but the door won't lower, then a likely cause is that the batteries are dead.
To be sure, try opening and closing the garage door with the wall switch. Garage door batteries last approximately two years before needing replacement. You can quickly and easily switch their remote batteries by removing the back panel and inserting fresh batteries.
If the remote still won't operate the door, make sure you're within range of the opener. If the door closes with the remote when you're within 20 feet of it, but won't close when you're down the street, you're likely out of the opener's range.
On the other hand, your remote may need reprogramming. Having a power surge may wipe the garage door opener's memory. In this case, your remote would lose its connection to the garage door opener.
Reprogramming remotes is a simple process. Using a sturdy ladder to reach the garage door opener, you should find a prominent "learn" button underneath the light cover or rear flap. Press this button until the light flashes, then press a button on your remote. This process should reconnect your remote to your garage door opener. Consult your opener's manual for your model's specific instructions.
If a remote is already programmed to the garage door opener, pressing the learn button will erase anything linked to the opener. So if someone recently pressed the learn button, that could be why your garage door is not responding to the remote.
Other Issues
Your instruction manual may hold the key if you remain stumped on why your garage door won't close completely. Most garage door openers send codes through flashing lights when something is awry.
Count the number of times the light blinks and refer to your garage door opener instruction manual. You should find a legend in the manual that correlates the number of times the light flashed with a specific issue. If you've misplaced the manual or can't see the legend, you should be able to look up the code online.
For Quality Garage Door Repairs, Contact RCS Carolina Garage Doors
For the best, most knowledgeable and reliable garage door repair and maintenance services throughout North and South Carolina, contact your local, skilled experts at RCS Carolina Garage Doors. Our professionals will do whatever they can to make sure you can close your garage door. We have over 30 years of experience serving homeowners throughout the Charlotte area and beyond. We believe in offering our customers affordable, quality garage door services using only the best products and materials available to guarantee lasting, dependable repairs. Request service today!
Homeowner's Guide to Garage Door Maintenance
We're often asked, "Do I really need garage door maintenance?" "Is garage door maintenance necessary?" To answer those questions, let's walk through a scenario.
Imagine you're running late to work one morning, rushing to the garage to get your car, but the garage door doesn't open. Or, perhaps you come home, it's pouring rain, and you're suddenly stuck in the driveway because your garage door won't work.
Your garage door is an essential entry point for your home, and when it doesn't work as it should, it's a major inconvenience. It often becomes a safety hazard and full repairs can be costly. However, proper garage door maintenance can help prevent inconveniences and dangers.
You know that garage maintenance is necessary, but how do you maintain a garage door? It may seem intimidating if you've never done it before. There are plenty of components, hardware and mechanisms to check. Don't let that intimidate you, though. Preventative maintenance is essential, especially for an overhead door and its opener. In this guide to garage door maintenance, we'll tell you what you need to know, from how to lubricate a garage door to other preventative maintenance tips.
Contact Us Today for Garage Door Services
How Often Do Garage Doors Need Maintenance?
Garage doors do need regular maintenance, but in most cases, checking your door even just twice a year will help maintain your overhead door and opener. You don't have to look at your garage door system too frequently; taking care of things seasonally will help keep everything in working order.
Of course, emergencies or other concerns may disrupt your maintenance schedule. If you notice issues with your garage door, from odd noises to improper door operation, you may need emergency maintenance or repairs. You should also check your garage door system if you experienced extreme weather, like flooding, or if a car or large equipment runs into the door.
How Do You Maintain a Garage Door?
Maintaining your garage door can save you stress and money down the line. You just have to know what components to check and what issues to look for. This process can be easier if you break it down by garage door system components. Follow these steps for garage door maintenance:
1. Clean the Tracks
Over time, debris and rust can develop along the tracks of your garage door system. That could impact your door's operation, as components can't move as smoothly as they could if the tracks were clear. If your roller tracks aren't clear, use an old toothbrush to dislodge dirt, grime or grease. Once you've removed significant buildup with a brush, spray the tracks with disc brake cleaner. Wipe the tracks with a clean rag to remove the cleaner and any grease or debris that remains.
2. Tighten the Hardware
Over the course of a year, you may use your garage door up to 1,500 times. As it opens and closes, the vibration of the components can loosen the hardware, from brackets to chain screws to bolts. Check that the brackets that hold garage door tracks to the ceiling and wall are tightened appropriately. Tighten any loose nuts and bolts throughout the system. While you're checking these fasteners, replace ones that are rusted or damaged.
3. Inspect the Rollers
Over time, your garage door rollers could wear out. Check these parts with your twice-yearly maintenance checks, and know they'll need to be replaced every five years to seven years. You'll know you need to replace a roller if it has cracked, chipped or worn.
You might not want to attempt to remove or replace the garage door rollers yourself. The bottom roller brackets are attached to lift cables, which are under high tension. You risk damage or injury if you try to repair this component yourself without proper knowledge. Call your garage door professionals to install replacement rollers and lubricate moving parts.
4. Look at the Cables, Springs and Pulleys
These are more components you shouldn't try to replace on your own, but you can check them for damage and wear. The lift cables and pulleys of your garage door attach to the bottom roller brackets, creating a connection from the springs to the door. The springs you have will depend on your garage door system, with either:
Extension springs: These thin, long springs go along the overhead or horizontal part of the door tracks.
Torsion springs: These springs are mounted above the door opening to a metal rod.
Look for broken strands, stretched springs or other wear & tear or damage issues. If you notice anything, be sure to contact a professional service technician to inspect and replace the damaged parts.
Want to DIY? Read our guide to adjusting garage door springs!
5. Test the Balance
Your garage door's balance refers to the tension in the springs. If the tension is too high or low, your garage door isn't in balance. When that happens, your opener will have to work harder, putting extra wear on the system. The springs and door should be in balance so it doesn't take much force to open or close the door.
To test your garage door's balance, pull the release handle on your automatic opener so you can operate the door manually. Carefully lift the door from the closed position until it's opened about halfway. A balanced door will remain in that position without your help. If the door falls closed or springs open, the system is unbalanced. While you can test the balance of your garage door on your own, you shouldn't attempt to repair it without a professional technician.
Your automatic garage door opener comes with a sensor safety feature and auto-reverse. The sensor feature reverses the garage door to open back up if it begins closing and something is in its path. This is called a photoelectric system, and it features sensors, also called eyes, on either side of your garage door opening.
To test the photoelectric system, start closing the garage door. Pass something in front of the sensor that you can remove if the sensors don't work. The door should stop closing and reverse back to an open position. If it continues to close even as you're passing an object in front of the sensor, you need a professional to inspect, replace or repair the safety feature.
Automatic garage doors also have a pressure sensor to prevent the door from closing all the way if something is in its path. Consult your garage door operation manual to see if your opener includes this feature, as it is now required for all automatic openers. If yours doesn't have it, you need to replace your garage door system right away.
If you do have auto-reverse, you should test it to ensure it's working properly. To test this feature, place a scrap wood board flat on the ground under the door. Stand clear and close the door. When it reaches the scrap wood, it should reverse and open again. If it doesn't, you may have to consult your manual to see how to adjust the safety feature. Contact a professional for assistance and any repairs your automatic garage door opener may need.
7. Replace Weatherstripping
Garage door weatherstripping is the rubber, PVC or other material along the bottom of the door. You may also have some on the sides of your door. This material helps keep out water, hot air in the summer and cold air in the winter when the door is shut. Over time, this material can crack or peel away from the door or the garage. If you notice any problems with your door's weather seal, it's time to replace it.
Depending on your garage door and its weatherstripping, it could be nailed into place or slid into a groove along the door. Make sure you get the right kind of weatherstripping that matches what you currently have so you can install it correctly. Removing the damaged material and not replacing it or leaving the damaged material up could impact your garage's temperature. It could also let in pests and water when your door is closed, so don't skip this maintenance step.
8. Check the Door Panels
While you're checking the other components of your garage door system, don't forget to look at the door itself. Manufacturers make garage doors out of different materials, and how you care for your door depends on the material. See if your garage door has any of these surfaces and maintain them accordingly:
Steel: Check for rust spots, which you'll have to sand, prime and paint.
Fiberglass: Wash the surface with an all-purpose cleaner.
Wood: Wooden doors can warp, chip and have water damage. Scrape away peeling or chipped paint, and sand and repaint the door.
To fix scratches or other blemishes on the garage door panels, you don't have to replace them. Simply paint over the marks to maintain the appearance of your overhead door. If you have significant damage to your garage door, you may need to have a professional replace panels or the entire door, depending on the damage.
Garage Door Maintenance With Lubrication
Another significant part of garage door maintenance is lubricating components of the system. When it comes to keeping your garage door system operating smoothly, you probably have a lot of questions. What should you use to lubricate garage door tracks? Is silicone spray good for garage doors?
Lubricating a garage door keeps the system moving smoothly to prevent wear, damage and loud noises. Decide between the two types of garage door lubricant, either silicone or lithium grease. Silicone spray reaches into tight spaces, protecting, preserving and waterproofing garage door components. Lithium grease creates a moisture-reducing barrier and helps prevent friction. Avoid using WD-40 because it doesn't provide adequate lubrication.
You don't need to lubricate every component of your system. For instance, you shouldn't use lubricant on a belt-drive opener. Instead, focus garage door lubrication on:
Rollers: If your garage door has metal rollers with unsealed bearings, spray the bearings with silicone spray oil. Do this after using an old toothbrush and a rag to remove any debris. If you have nylon rollers with sealed bearings, spray lubricant into and around the rollers' stems.
Pulleys or bearings: Depending on whether you have an extension or torsion spring opener, you can lubricate different parts of the system. For an extension spring, lubricate the pulleys on the opener. With a torsion spring opener, you can lubricate the bearing.
Hinges: If your garage door has metal hinges, lubricate them where they pivot and wipe away excess lubricant. Don't lubricate plastic hinges because the lubricant could break down the plastic.
Springs: When you look at your garage door system, you may be wondering — should you lubricate garage door springs? You can lubricate garage door springs, but don't use too much lubricant. You just want to spray enough so the components can move better. Don't spray so much that lubricant is dripping off the springs. When working anywhere near the springs, be sure to practice extreme caution. They are under immense pressure and can be hazardous if handled incorrectly. If you are unsure how to lubricate your springs, it is best to trust a professional.
Many homeowners also wonder, "Should you grease garage door tracks?" Garage door experts have differing opinions on this, with some recommending you clean and lubricate the tracks, while others suggest only cleaning them. Keeping the tracks clean and lubricating different components instead is the best way to ensure your door functions as it should. If you want to lubricate your garage door without the help of a professional, you can find equipment at most hardware stores. However, it's always better to contact a service technician if you have any doubts about the process or what to use to lubricate a garage door.
Garage Door Maintenance Tips
Before you inspect your overhead door and opener, prepare with a few more garage door maintenance tips. These suggestions will help you know when to conduct garage door maintenance and what to do during the process:
Move your car and other items out of the garage: Before you begin conducting garage door maintenance, move your car or any large items that might get in the way out of the garage. You'll have enough room to work, and you'll be able to easily reach different components of your garage door system for maintenance.
Listen to the door: One of the biggest clues that your garage door needs maintenance is loud noises during operation. When your garage door isn't lubricated, aligned or balanced, you may hear grating or scraping noises. Your door should be relatively quiet as it opens or closes. If you notice it making odd noises it didn't make before, it's time for maintenance and, in some cases, repairs.
Be careful: Garage door systems are under extreme tension. Attempting to do any maintenance on garage door springs or certain components could lead to damaging your door. It often causes injury or damage to you and anything you keep in your garage. Conduct maintenance carefully, wearing safety glasses and sticking to areas like tracks and leaving delicate components to the professionals.
Contact RCS Garage Doors for Preventative Maintenance Today
If you found problems with your garage door during maintenance or aren't sure where to begin, RCS Garage Doors can help. We're based in Charlotte, North Carolina, and we extend our service to businesses and homeowners throughout North and South Carolina. Our expert technicians are ready to conduct preventative maintenance and any necessary repairs for your garage door. And if your garage door or opener is beyond repair, we have an array of garage door styles to suit your home's facade and reliable residential garage door openers.
Contact RCS Garage Doors today to request repairs or maintenance for your garage door system.
Call (704) 523-8063 for Garage Door Services Today
When Should You Replace Your Garage Door?
Your garage door should be strong enough to guard your home against the weather and keep thieves out. Upgrading this part of your house can increase your home's curb appeal and even raise its resale value.
It may be time to invest in a new garage door if your door is not as durable and attractive as it used to be. To save money, you could repair a part of the door to make it work more efficiently. Whatever the situation you find yourself in, there are many options to improve or upgrade your garage door. Use this guide to determine when to replace the garage door.
Contact Us for a New Garage Door
How Do You Know If You Need a New Garage Door?
If you can't remember the last time you replaced your garage door, you might want to consider a new one. A brand-new unit is a wise home improvement investment for your property, especially if you've had problems with your garage door system in the last couple of years. Consider upgrading your garage door if you're experiencing any of these conditions.
1. Your Garage Door Is Noisy
A garage door should be reasonably quiet as it opens and closes. Older doors tend to make noise due to dirt or debris. While some of these sounds are harmless, they could be a sign that you need a garage door replacement. Ignoring these issues for too long could damage your garage door beyond repair and may even damage the door opening.
Besides your door, the garage door opener could also be noisy, especially if there's debris or rust around the chain. Upgrade the opener to one that has a smoother operation, like a belt-drive system with an AC motor.
2. Your Garage Door Is Sagging
Due to moisture and UV damage, wood garage door panels could rot, decompose or lose their color if you haven't properly maintained them. The sagging panels may reduce the aesthetic appeal of your house, and they typically need to be replaced. If the door isn't made of wood, sagging could be a more severe issue.
Open the garage door manually to check the balance of your door. If it's off-balance, it could have a broken torsion spring. If you notice these issues, you may want to replace your garage door before it shuts down and you have to request emergency service.
3. Your Garage Door Isn't Safe or Secure
A garage door comes with safety features like the automatic reversal system, which prevents the door from closing when a person or object is in its path. If this system doesn't work, you should upgrade to new hardware to protect your loved ones from injury.
You should also replace your garage door if you've had a break-in recently. Old garage doors can be a weak point in your home, especially if thieves figure out the opener keypad access code. If you upgrade to a smart garage door opener, you may have the option to receive a randomly generated access code on your phone every time you need to unlock the door.
4. Your Garage Door Is Out of Style
You may want to change your garage door style or color to update its appearance. A brand-new door increases the value of your home and makes it stand out from other houses on your block, especially if your current door has chipped paint or rot on the panels.
You should consider how your garage door looks in tandem with the rest of your house. A garage door makes up a significant portion of your home's exterior and can even be a focal point of the house. You can use the garage door design tool to upload a picture of your house and try out different styles while you shop. If you choose to upgrade your garage door, increase its technological features with a smart garage door opener that connects to a smartphone app.
5. Your Garage Door Is Costing You Money
Wear and tear on your garage door could affect how smoothly it opens and closes. While you can change out garage door parts or accessories when they break, if your door needs constant maintenance, the replacement cost of a whole system may end up being less than accessory garage door costs.
Along with money on repairs, you may pay more in energy costs with a worn-out garage door. Older doors may have gaps in the panels or around the sides that could leak in cold air during the winter. Insulated doors help regulate the temperature of your garage, putting less strain on your HVAC system. Check the energy efficiency of your garage door if you notice an increase in your energy bills.
6. Your Garage Door Doesn't Work
A garage door should open and close when you press the remote on the opener. If it moves slowly or doesn't move at all, you should consider replacing it. Over the years, a slow garage door may get slower and eventually stick on the track.
Any of the heavy moving parts on your garage door could cause it not to work anymore, and sometimes it's easier to replace the whole system than to figure out why it isn't working. This is especially true if the door is damaged from harsh weather or impact.
7. You're Selling Your House
If you're putting your house on the market, keep in mind that a garage door replacement yields the second-highest return on investment (ROI) for a home improvement remodeling project in North Carolina. While most homeowners focus on renovating the bathroom or kitchen, a new garage door has great curb appeal and can increase your home value and get you more money for your house. Invest in this remodeling project to give potential home buyers an excellent first impression of your house.
How Often Should You Replace Your Garage Door?
Do you need a new garage door? It depends on the age and reliability of the door. A sturdy garage door will last for decades in moderate weather conditions and with proper maintenance. Consult with a garage door professional for recommendations based on your specific situation.
Generally, if you need a new garage door, you should get it installed in the spring while you're doing your spring cleaning. Consider these reasons why you should replace your garage door between March and June:
If harsh winds, snow or hail from the winter beat against your garage door, you can replace your damaged garage door after the snow melts.
Instead of taking on a renovation project in the summer, when the weather is warm and you have activities planned, you can get your house ready for this season by installing a new garage door in the spring.
The weather is pleasant in the spring, allowing the garage door technician to work in moderate conditions while keeping your home at a reasonable temperature.
Garage door companies tend to have promotions on their garage doors in the spring.
If you need to replace your garage door, you should do it before the cold winter or the hot summer. An attached garage often shares a wall with one of the rooms in your interior, so the temperature in your garage can affect the whole house. Installing in the spring may also help you prevent the need to call a technician in the middle of winter because of an emergency.
Can You Replace Just a Section of Garage Door?
You can repair a part of the garage door instead of replacing the whole system. If you have a stable door, you may be able to save money by having a professional fix a broken spring or a cracked panel.
If your door doesn't open or close, try replacing the batteries in the opener remote before calling a technician. Check the manufacturer's instructions for information on how to replace the batteries if you need assistance. If this doesn't work, inspect the door and call a professional. They can complete the following repairs safely and effectively:
How Long Do Garage Doors Last?
Garage doors could last up to 30 years if you properly maintain them. Here are some tips for prolonging the integrity of your door that you should do at least once a year:
Lubricate all moving parts: The moving parts in your garage door are metal. To prevent rust and allow the garage door to move freely, spray lubricant on the springs, track, chains and handles.
Tighten up the hardware: If you keep your garage door tracks and hinges tight, you can prevent debris and damage to your door from loose parts. Use a screwdriver or a socket wrench to tighten up the loose bolts you notice on the moving parts.
Test the door's balance: A garage door that's off-balance can damage the rest of your property. To test the balance of your door, disconnect it from the opener and move it manually. If you discover an issue as you open and close it, contact a professional to inspect it.
Inspect the rollers: Check your garage door rollers about twice a year for damage. These parts should last for several years, but if they're damaged, they could affect the operation of your door. Get damaged rollers replaced so you won't have to replace the whole garage door.
Install new weatherstripping: Your garage door seal and insulation are essential for protecting the inside of your garage from snow, rain and air leaks. Seal any gaps you notice under the door to keep your garage comfortable throughout the year. You might have to get the weatherstripping (rubber seal) replaced under the door if it's broken or worn.
Test the auto-reverse feature: To ensure your garage door is reliable for years to come, test the auto-reversal system. Place a piece of wood or a brick in the way of the photo eye sensor. When you close the garage door automatically, it should reverse once it notices the block. If it keeps going, contact a technician to have it serviced.
Clean out the tracks: In the winter and spring, use a broom to sweep out debris, cobwebs or animal nests in the way of the tracks. Avoid using water or cleaning chemicals that could damage your metal tracks.
Inspect the garage door: Try operating your garage door both manually and automatically. Listen for any unpleasant noises coming from the door, and check that it isn't getting stuck as it moves. Contact a professional if you have any concerns about the door.
Care for the panels: Once you know your garage door is functioning correctly, you should check its appearance for worn-out or chipped pieces. Reseal or paint wooden door panels, and wash metal or vinyl with mild soap and warm water. You should also inspect the door for dents or rust stains after a harsh storm and replace door panels if necessary.
While you can complete most of these maintenance tasks on your own, you can schedule an appointment with a garage door company to have them inspect the door if you have specific maintenance concerns:
Contact Us for a New Garage Door in Charlotte, NC
If you need a new garage door in the Charlotte, North Carolina area, schedule an inspection with RCS Garage Doors. We can help you decide whether you need to repair a broken part of your unit or replace the whole system. We have a large selection of residential garage doors and garage door openers to enhance your home's curb appeal. For more information, contact us online or call us at 704-523-8066.
Call (704) 523-8063 for a New Garage Door Today
How Do I Know if My Garage Door Sensor Is Out of Alignment? 
Garage Door Sensor Issues
Garage doors keep our lives on track as we open and close the entrance to our garage. Modern garage doors can be operated with a combination or key fob, helping to protect your valuables. When the garage door breaks down or will not open or close properly, it affects our daily lives.
A common problem with a garage door is when the sensor moves out of alignment. How can you be sure your garage door sensor is the culprit of a broken door? RCS Garage Doors is here to help you understand garage door sensors and how to test their functionality. From there, you can potentially fix the problem yourself or call the professionals to handle the repair.
Call (704) 523-8063 for Opener Repairs Now
How Garage Door Sensors Work
While garage door sensors are convenient, they offer more than just an easy way to open and close your garage door. Garage door sensors are a safety measure that prevents the doors from closing on an unsuspecting person or valuable objects, such as a vehicle, tools or equipment. All modern garage doors must come equipped with a sensor to prevent accidents or injuries. These sensors can change the direction of the door if they detect something in its path, forcing it to open. If a garage door sensor stops working, it can become a significant safety hazard and an inconvenience.
Garage door sensors work by using infrared sensors that are equipped to either side of your door. These sensors are usually no more than six inches from the ground and create an invisible line across the door that detects if something is in the way.
How Do You Test a Garage Door Sensor?
Testing your garage door sensor is essential to prevent injuries or property damage. A faulty sensor can prevent the door from stopping and reversing its direction when something is in the way. Once you've figured out the problem with your sensor, you can take the next steps to have it fixed.
You can determine if your garage door sensor works by using an ordinary object, such as a box. You'll want to place your object in line with your sensors and attempt to close your garage door. If your garage door reverses with the obstruction in the way, you can assume that it's working correctly. If your garage door closes on the object or seems to stutter before reversing, you'll want to take extra steps to identify what's wrong with your garage door sensors.
Is My Garage Door Sensor Broken?

Signs to Look For

If you've noticed that your sensors aren't working correctly and are closing on objects, there are a few ways that you can identify the root cause. Once you get to the underlying problem, you can contact a professional to help you fix your garage door sensors. There are three signs you can look for to tell if your garage door sensor is broken:
Light indicators: The garage door open indicator lights on the exterior of your garage door are one of the easiest ways to tell if your garage door sensors are misaligned. If these lights are blinking red when you try to close your door, you likely have poorly aligned garage door sensors. Green lights would mean your sensors are working properly, so red or no light on the garage door sensor must be checked immediately. You may have a problem with your bracket or need to tighten a screw on the sensors, or it might be a problem with the circuit board that requires professional assistance.
Dirty lenses: Sometimes, your garage door sensor lenses can become dirty, which makes it hard for the sensors to detect anything in the way. You can use a clean microfiber cloth to wipe away the spiderwebs and dust from the lenses to see if dirt is the cause of your sensor malfunctioning. If you're in an area with a lot of dust or your garage gets cluttered or dirty often, you should clean your sensors often.
Damaged wires: The wires of your sensor system can develop wear and tear from frequent use, pests and adverse weather conditions. Pest infestations, wind and rain can affect your wires and make it challenging for your garage door to close properly. You'll want to perform a visual check of these wires for chew marks, water damage or other signs of damage and have a professional replace them to get your sensors working again.
Once you've checked these three signs, you'll want to check your garage door sensors again with another object. You'll be able to determine if you've fixed the problem yourself or if you'll need to call a garage door expert. Other reasons your garage door sensors might not work include issues with the power supply, objects obstructing the path or too much moisture exposure.
Garage Door Safety Sensor Not Working? Contact RCS Garage Doors Today
If you experience persistent problems with your garage door sensors, call the team of experts at RCS Garage Doors for residential and commercial garage door services. We put our clients first to ensure you are 100% satisfied with our services. With over 20 years of experience, we are your local garage door professional in Charlotte, NC. We have extensive training and the latest tools to service your misaligned or damaged garage door sensors.
Contact us today to learn more about our services or schedule an appointment!
Linked Sources:
Common Garage Door Problems
As homeowners, we tend not to stress much over our garage door until something fails, breaks or starts making an unfamiliar noise. You rely on your garage door to safely open and close for your security and home comfort. When you have a problem, you put your vehicle and everything in your garage at risk. If your car is still inside when your door won't open, you may have issues getting to work.
Whether you have a garage door opening and closing problem or another garage door issue that keeps it from working, find out what's wrong and if you need a professional repair. When in doubt, call the expert repair technicians.
Learn More About Our Garage Door Repair Services
Why My Garage Door Won't Work
Several problems can keep your garage door from working. The issue could be as simple as an unplugged motor or as complex as needing a new garage door spring system. Your first step is to assess the problem so you can properly describe it to the garage door repair technician. If you have a minor issue, you might be able to fix it yourself, but it's never a bad idea to call a professional for a thorough examination and repair of the problem. You could have more than one thing wrong with your garage door that needs an expert eye to spot.
1. Remote Stops Working
The first thing to do when your garage door won't close or open is to check the remote. Electronic transmitters in your remote need to have power and proximity to work. If these remotes do not open your door, you may have an issue with the batteries or not be close enough for the garage door sensor to pick up the transmission. Replace the batteries, and always have your garage in sight when using the remote from your car.
Does the remote work but your door still won't open? Contact Us to Fix the Issue!
2. Wall Switch Doesn't Work
The wall switch inside your home already has power, but it may not move your garage door. Likely, you have an electrical problem. The circuit breaker for the wall control switch may have tripped. Other sources include bad electrical components such as the switch or needing a door opener motor replacement.
3. Door Changes Direction Before Closing
Look for your door going down, stopping and reversing direction suddenly. You may need to try a second time to close the door. This problem could stem from an issue with the sensor that prevents the door from closing on a person or pet in the way. Since 1993, these sensors have been standard issue for garage doors, but misalignment or debris can cause them to stop the door when it does not need to.
4. Seal Around the Door Leaks
Your garage door should have weather-stripping on all sides to keep outside air from affecting your home's comfort. In addition to hot or cold air from outside, you can also get water in your garage when it rains. Replacing the weather stripping with a kit designed for your garage door may stop the leak.
5. Door Won't Close All the Way
A door that does not close all the way may not have the correct adjustment for its close limit. Alternatively, you could have something blocking the path. Safety sensors may also have problems that prevent the door from fully closing. In rare cases, rust may cause the door to bind as it goes down, preventing it from fully closing.
6. Door Does Not Fully Open
While a door that does not close all the way is a problem, so, too, is one that will not open. If your garage door won't open all the way, you have an issue that needs repair. Damaged rollers or an up limit that needs readjusting could keep your door from opening completely at any time of the year, but sometimes, the weather will affect your door's ability to open.
Cold weather can stiffen the rollers, keeping them from working as they should in raising your door. You may need to make seasonal adjustments to the opener's sensitivity. However, most garage doors manufactured in the last 15 years take the effects of the cold into account, and this problem occurs more rarely in newer models.
7. Door Sags
Wooden garage doors or those that have gotten older may start to sag as the stress of opening and closing over the years takes its toll. A consequence of the sagging is that the door becomes harder to move.
While you can have a sagging garage door repaired with tension rods, you may want to consider replacing it with an updated model that will move smoothly and give your home a fresh look.
8. The door comes off its hinges
More often than not, this issue is caused by one of the level tracks coming out of alignment, the metal bracket at the end of the track coming free or the bolts holding the bracket in place coming unscrewed. If the rollers are still in the tracks, close the door tenderly and firmly tighten the bolts holding the section set up. Additionally, take the time to ensure that the distance between the horizontal tracks is the same as the separation between the vertical tracks and that everything is parallel. If the door has fallen on the garage floor, don't do anything! Call a garage door company A.S.A.P.
9. Sometimes the door opens and sometimes it doesn't
There are two likely circumstances:
The battery in your remote is dying. Simply change the battery in your remote. Take some time to change the batteries in your different remotes and if you have an outside keypad, change those as well.
Another plausibility—although unlikely—is that if your opener was made before 1993, one of your neighbors may have a similar kind of gadget (utilizing a similar wave recurrence) with a similar transmission code. Have a good laugh and then change one of the code buttons on your remote (clasps: +, 0, – ), and that ought to fix everything.
10. When shutting, the door goes down a little and then abruptly goes back up
In most cases, if you have an automatic photoelectric backup system (with sensor units put on each side of the door around 5-6 inches from the floor), the units are most likely misaligned. There's an invisible beam of light that goes along the door frame. If the beam is cut off, the door interprets this as implying that somebody or something is in the way. All you need to do is adjust one of the sensor units with the other one. Investigate the control panel installed close to the door leading into the house. An indicator light should stop flickering.
On each garage door opener, there's a button for conforming the sensitivity of the motor when the door is shutting. You can turn it down a little by turning the button no more than a quarter-turn to the left. Check it by opening and shutting the door with the remote. The sensitivity must be properly adjusted. It has to do with one of the two backup systems that secure you, your friends and family. To ensure everything is properly adjusted, you have to lay a piece of wood (2 x 4) flat on the threshold of the door. When the door hits the piece of wood, the door opener ought to reverse its course, lifting the door back up.
Garage Door Troubleshooting Tips
If you see any of the previous garage door issues in your home, you can troubleshoot the situation to determine what precisely might be wrong and whether you need to call for professional help.
1. Why Does My Garage Door Slam Shut?
If your garage door slams shut suddenly, you have a dangerous situation on your hands. It is dangerous for you and your family to be near the door when it closes so quickly and can cause injury. There are two or three conceivable causes:
In a 9 x 7-foot garage door, the torsion spring situated over the door, which fills in as a stabilizer, might be broken. If you have an expansion spring framework, in which the springs are situated over the flat rails, one of the two springs might be broken.
On the off chance that you have a 16 x 7-foot door, most by far of which utilize a torsion spring framework, one of the two springs is presumably broken.
One of the lifting links is broken or close to breaking.
Since this problem stems from the mechanisms supporting the garage door, you need a garage door company professional to repair the job. If a spring is broken, stop using your garage door immediately and call a garage door professional quickly. You may need the springs or cable to be replaced. Do not try to do this work yourself.
2. What Causes a Garage Door Not to Close?
If your garage door does not close, first check for something blocking the sensors. After clearing out any possible obstacles, see if the door works. If it still doesn't close, you may need a garage door technician to make adjustments to the system. If you have poorly aligned sensors, a repairperson can put them back into their correct alignment to make your garage door safer to use. Should the problem be with the motor or the lift mechanism, you should let an expert handle those issues, too, so you get it fixed the first time.
3. What Causes Door Seal Problems?
If your door seal needs to be replaced, you could do the job yourself, but it can be a difficult task. If you get the wrong kit for weather-stripping your garage door, you could end up with a leaky door or not enough material to finish the task. Choose someone with professional experience to select the type and amount of sealing material to fix your door.
4. Why Does My Garage Door Not Open Fully?
For a door that does not open or open all the way, you may have electrical problems with the motor. If you do not hear the motor running when you try to open the door from the wall switch and remote, the motor or the power going to it could be the problem. These require professional work due to the risk of getting shocked.
For doors that don't open during the winter, ask about seasonal readjustments of your opener. You may also need sensors or the door opener adjusted for a door that won't open or open completely during any season.
Contact RCS Garage Doors for Garage Door Repair Today

Always discuss the issues you are having with a garage door professional in your area. They can email you a free quote for a service call or they would be happy to come to your home to correct whatever issue you're having with your garage door. Don't attempt dangerous repairs to your garage door yourself.
If your door doesn't open or close, contact us at RCS Garage Doors for service. Our experts are trained to repair your garage door safely, timely and the right way. Your home, vehicle and garage contents depend on the reliability of your garage door. Don't let your problems with it cause more issues. Get the help you need now from our experts at RCS Garage Doors.
Call (704) 523-8063 for Garage Door Repairs Now
Buyer's Guide to Insulated Garage Doors
It's easy to forget about your garage door. It's an item that we use daily but think about rarely. Yet from a street-level view, your garage door can comprise a surprisingly large area of the front of your home. While it may be hard to think of your garage door as an important factor in keeping your home heating costs under control or ultimately improving your selling price if you decide one day to leave your home, your garage door can play important roles in both cases.
For many people whose home has a garage, it's one of the main entrances into their home. Your garage may connect to the kitchen or perhaps to a hallway. Your family may open and close the garage door six to eight times a day, depending upon the weather and how often you need to get to work, take kids to school or a doctor's appointment or go to music lessons or sports activities.
The point is that you use your garage door a lot. If you live in a part of the country where temperatures can get cold in the winter, opening and closing a door so often can result in heat loss. And if your garage door is only made of steel, fiberglass or even wood, the heat loss can go on all day. Many homes have a bedroom or some other room over the garage. You can count on this being one of the coldest rooms in your home.
Conversely, in places where summer days can get to sweltering temperatures, having a well-insulated garage door will help keep your house cool, especially that room above the garage. An insulated garage door helps prevent this room from turning into a sauna during the hottest summer days.
That's why it makes sense to have an insulated garage door. Additionally, an insulated garage door offers many other benefits besides keeping your garage warmer in the winter and cooler in the summer.
The Ins and Outs of Garage Door Insulation
When it comes time to purchase a new garage door, one of the many questions you may come across is, "Do you want your garage door insulated?" If your garage is attached, think of it as an extension of your home. These garages often have insulated walls to keep in heat so your garage can serve as a buffer between the home and outdoors. However, having an insulated garage without an insulated door is equivalent to leaving the door open.
The heat or cold that can pass through your garage door is enough temperature to draw from your home's heating or cooling efforts.
Why Should I Buy an Insulated Garage Door?
When you decide to install an insulated garage door on your home, you're making a wise decision as a homeowner for many reasons:
With an insulated garage door, you conserve energy — your home loses less heat, and the garage stays warmer. In some cases, the differences between outside temperature and the temperature inside the garage when you have an insulated garage door can be as much as 40 degrees Fahrenheit.
Keeping a garage warmer or cooler makes getting in and out of the car or working in the garage more comfortable for you, the homeowner. If you've decided to use your garage as an extra room in your home or as a workshop, not as a place to park your car, then having an insulated door turns what could be a cold, sterile space into a warm, comforting one. The same is true for the summer. If you live in a climate that can get very hot in the summer, insulated doors can help prevent the heat from penetrating your home and increasing your air conditioning bill.
Insulated garage doors are less likely to flex and come out of alignment.
Insulated doors are stronger than non-insulated doors. The insulation strengthens the doors in a way that makes dents less likely.
Insulation also doubles as a sound buffer which makes opening and closing your garage door a quieter task. It also reduces noise from the street entering your home.
Insulated doors can also give you great curb appeal. You can buy insulated doors in a style and color that perfectly complements the exterior of your home. For instance, you can select many different styles of windows to include in your insulated garage doors, which can provide your garage with lots of lighting during the day. When you decide to sell your home, having an attractive insulated garage door will allow you to increase your asking price.
The moving and operational parts of the garage door and garage door opener operate better when they are kept in moderate temperatures. Extreme heat and cold put additional stress on these parts, making them more likely to have problems.
When you're looking for an insulated garage door, there are several important factors to take into consideration that will help you decide the level of insulation that you'll want for your garage:
1. BTU
BTU stands for British thermal unit. One BTU is the amount of energy required to raise the temperature of one pound of water one degree Fahrenheit.
2. R-Value
The ability of a material to mitigate the transmission of heat. The higher the R-value (0 to 19), the better the insulation performance.
Think of it this way – suppose you took a snowmaking machine and you blasted that snow at your garage door. If your garage door did not have any insulation, and you tested from the inside, there would be an excellent chance that it would be as cold inside as outside. If the door were insulated, however, it would be warmer, perhaps quite a bit warmer, than the outside door.
The same is true of heat. If you used an acetylene torch on an uninsulated door, it would be as hot to the touch on the inside as on the outside. But with insulation, it would be much easier to touch the door on the inside as it would be substantially cooler.
So when you choose a material for insulation that has a higher R-value, the better that insulation can stop the conduction of heat. Without insulation with a good R-value, the heat or cold will move from outside your garage to inside your garage and then throughout the rest of your house.
How much R-value do you need? That depends on where you live and how you are using your garage — to park cars, as a workshop, or as another room? Here is a quick guide to R-values:
0-4: Minimal to no insulation
5-8: Lightly insulated
9-13: Good insulation
14-19: Excellent insulation – good for those who heat their garages for garage work and want to ensure their garage doesn't lose heat.
3. U-Value
U-value is another way to measure the conduction of heat. It is based on the amount of heat, in BTUs, transmitted through one square foot of material in one hour at a temperature difference of one degree Fahrenheit from one side to the other. The more heat transmitted through any kind of material, the higher the U-value. The lower the U-value, the better the insulation.
The one problem with U-values is that not every door manufacturer uses them. R-values are therefore the better choice when selecting a level of insulation for a garage door.
How Do Different Materials Used for Insulation Affect the R-Value?
Some materials provide better insulation than others. Materials such as polystyrene and polyurethane are the most commonly used types of insulation in garage doors. Though they are very similar materials, they work differently and provide different levels of protection.
Polystyrene (Styrofoam) is inserted into the garage door in panels which means it cannot be an exact fit. Since it is not an exact fit, there is room for air to get into the garage. Polystyrene, the material used to make many coffee cups and peanut-shaped packing materials, is the kind of insulation that most major retailers use in their garage door insulation kits. If your garage door has two or three layers, you insert these rigid polystyrene panels between the layers. If you only have a single-layer garage door, the polystyrene includes a vinyl back that attaches it to the garage door.
Polyurethane (spray foam), on the other hand, is sprayed into the door, which allows it to expand and bond to the surface. Injected polyurethane expands to fill every space inside the layer into which it is sprayed. This helps create a high level of sound insulation and greater climate control, and it also increases the strength of the door. The R-value is much higher with polyurethane than with polystyrene panels.
Tips for Buying a Garage Door
When you're looking for a new garage door, either insulated or non-insulated here are a few tips to keep in mind:
1. Get an In-Person Quote If Possible
Not every garage door is the same. If you're looking to replace an old one with a new insulated model, you can likely get a quote online. But it's better to work with a knowledgeable representative from a local company. They'll know the right details to check and can even help you with a possible design. Then they can give you a quote that will be much more accurate. A good sales representative will make sure you get the right garage door for your home.
2. It's Better to Have Too Much Insulation Than Too Little
If you're buying an insulated garage door is because you know it will save you money on your energy bill, it's worth spending a little bit extra to use polyurethane on your doors. Sometimes you can double your R-value by using polyurethane rather than polystyrene.
3. Have an Expert Install Your New Garage Door
Professional installers have the tools and experience necessary to install your new door safely and quickly. A pro will have the job done in about four hours, and they'll probably take the old door away as well, so you won't have to worry about that either.
4. Take Time to Select the Right Windows
Selecting the right windows can make a garage door look fabulous. And, as we noted above, it will also bring a lot of light into your garage. Here are a few things to think about:
Use insulated glass if your garage is heated.
No homeowner wants someone to peek in through a window in your garage door. Install the windows in the top panels.
Work with the sales rep to match the style of glass you use to the overall architectural design of your home.
Insulated Garage Doors We Offer
At RCS Carolinas, we offer a wide variety of insulated garage doors from Clopay, one of the best garage door companies in America. Here's a look at some of what we have to offer:
Our Classic collection has two options if you're interested in insulated doors — the Premium Series and the Value Plus Series. Both offer a range of R-values from 6.3 to 18.4. Whether you want a lot of insulation or just the right amount, we have the doors that will suit your purposes. You can choose from 14 different colors and a wide variety of window options.
Our Gallery collection features grooved panel steel carriage house doors. These doors can be purchased with or without insulation. Our insulated versions come with R-values from 6.3 to 18.4. A tough outer coating includes a hot-dipped galvanized layer, a baked-on primer and a final top coating to protect the door's steel skin.
The Grand Harbor collection features carriage house doors made of steel and composite materials. They are great for new construction or if you're looking for a low-maintenance replacement for your current garage door. Our insulated version offers an R-value of 6.3, the perfect choice if you live someplace where temperatures are more moderate. It still protects against a cold day or high temperatures. There are available in four colors, and you can use them with a wide variety of architectural styles.
These are only three of the options we offer. We have many others available to suit your budget and your sense of style.
Shop Insulated Garage Doors at RCS Carolinas
If you are looking for insulated garage doors with windows in Charlotte, N.C., look no further than RCS Carolinas. We have been in business for over 20 years helping people find the right garage door for their home or business. We offer doors manufactured by Clopay. Our staff of full-time design consultants and sales professionals will work with you to find the perfect door with a great design for your home.
You can visit our showroom at 8349 Arrowridge Blvd, Suite R in Charlotte, N.C., call us at (704) 523-8063 or request an estimate where you can leave us your contact details and submit your questions or comments. A member of our team will get back to you as soon as possible.
How Do I Know If I Have a Broken Garage Door Spring?
If you're like most people, your garage door gets more use than your front door. It's the primary entry and exit point of your home, which means your garage door is going up and down several times a day, an action you typically take for granted as you push a button on your way in or out.
Then, one morning, your garage door doesn't open. Suddenly, it's not as simple as pushing a button and backing your car out. Now, you have a problem, and you need to find a solution.
While there could be several reasons for a malfunctioning garage door, one of the most likely explanations is that your door has a broken torsion spring.
Garage Door Spring Repair Services
What's that, you ask? And what am I supposed to do about it?
Don't worry. Most homeowners don't know much about the mechanics of their garage door, and that's OK. In fact, in 2014, the U.S. Consumer Products Safety Commission reported an estimated 18,000 garage door-related injuries. To avoid being included in this statistic, it's better to leave garage door repair to professional repair companies, which means homeowners don't need to be experts about their garage door.
However, if you own a home with a garage, it's essential to understand the mechanics of your door, so you can easily identify a problem. By doing this, you'll have an easier time figuring out whom to call, and you'll have your door operating back at its full capacity even sooner.
What Is a Garage Door Spring?
You'll find the garage door's spring along the top of the door inside your garage. It's substantial and very evident. It connects to cables that wind up when you activate the garage door opener — where these cables are and how they operate depends on what kind of automatic opening system you have. This spring is essential to the functioning of your garage door. As the cables turn, the tension increases on the spring, pulling the door up. If it becomes broken or damaged in some way, it won't operate properly, resulting in a door that doesn't open correctly — or open at all.
Springs on a garage door should be durable. In fact, on average, they should last through 10,000 cycles of opening and closing your garage door. However, just like anything else, over time they can wear out or become damaged in some way. Ideally, homeowners should have a professional garage door repair service come out to service the springs on their garage door. This service doesn't need to happen that often, but as your door starts to age, it's crucial to take notice of how it's operating and have it properly maintained.
The good news is, out of anything on a garage door, the springs are the most likely part to break, which can make it simple to diagnose when problems arise. The bad news is, a broken torsion spring on a garage door can turn into a safety hazard. So, if you discover your door isn't opening as it should, the first thing you'll want to check is the condition of your spring — especially if your door is getting older and you haven't had it serviced recently.
Signs of a Damaged Garage Door Spring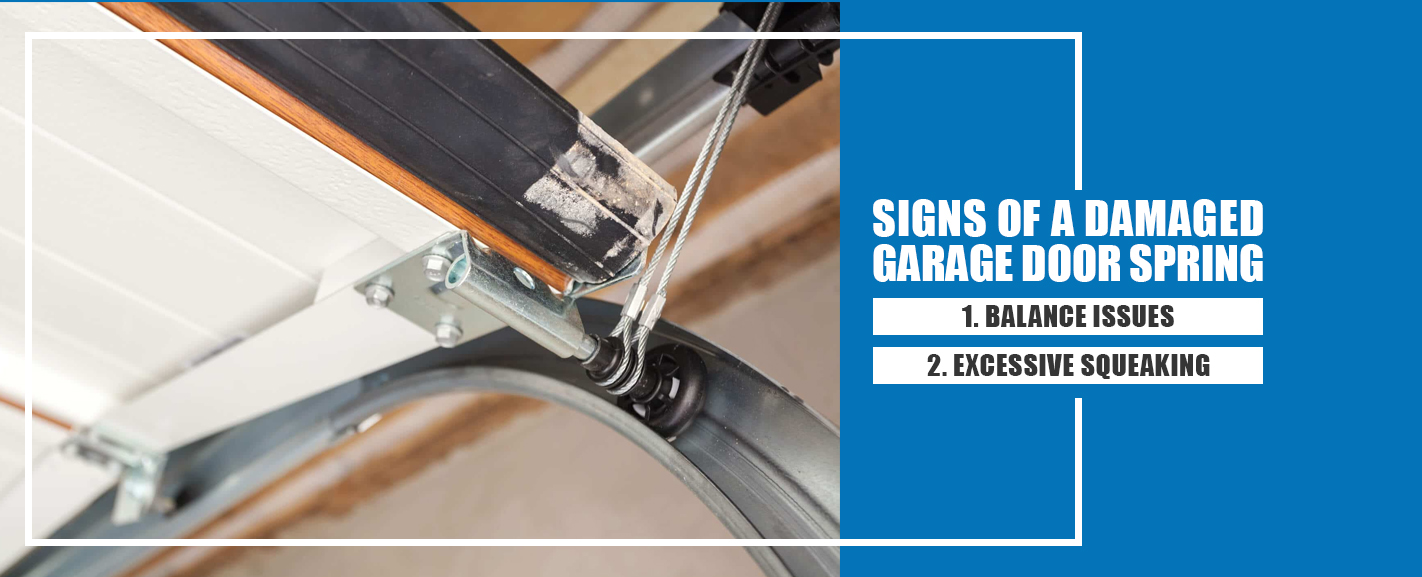 If your door isn't opening correctly, spend a few minutes inspecting it to see if you can figure out the problem. Sometimes, your spring may be damaged or worn out, but it won't be broken. Other times, there will be a distinct break. Either way, it doesn't take a rocket scientist to discover a problem with your garage door spring. Typically, there are two ways to identify damaged or worn-out springs:
1. Balance Issues
If you have a hard time closing and opening your door — but it does still move — your door may be out of balance. You can also identify this problem if your door falls quickly after it lifts several inches, or by the door moving up and down on the track more slowly than usual. Whether it becomes faster or slower may depend on what has caused it to become unbalanced. Another telltale sign of balance issues is excessive noise as you raise it up and down.
Issues with garage door balance don't always result from a problem with the spring, but they can aggravate an existing problem or create one if you continue to operate the door despite balance problems. Eventually, if you don't address suspected balance issues, they can put extra strain on the spring and cause it to break or become damaged.
2. Excessive Squeaking
Over time, your springs can become worn and start squeaking. While all garage doors make some noises now and then, if you notice loud noises that haven't been present in the past, it may be a sign that there's a problem. Applying some lubricant to them can sometimes take care of the problem, but if you do this and there are still noises, it might be indicative of a more significant issue.
Adjusting a Garage Door Spring
Signs of a Broken Garage Door Spring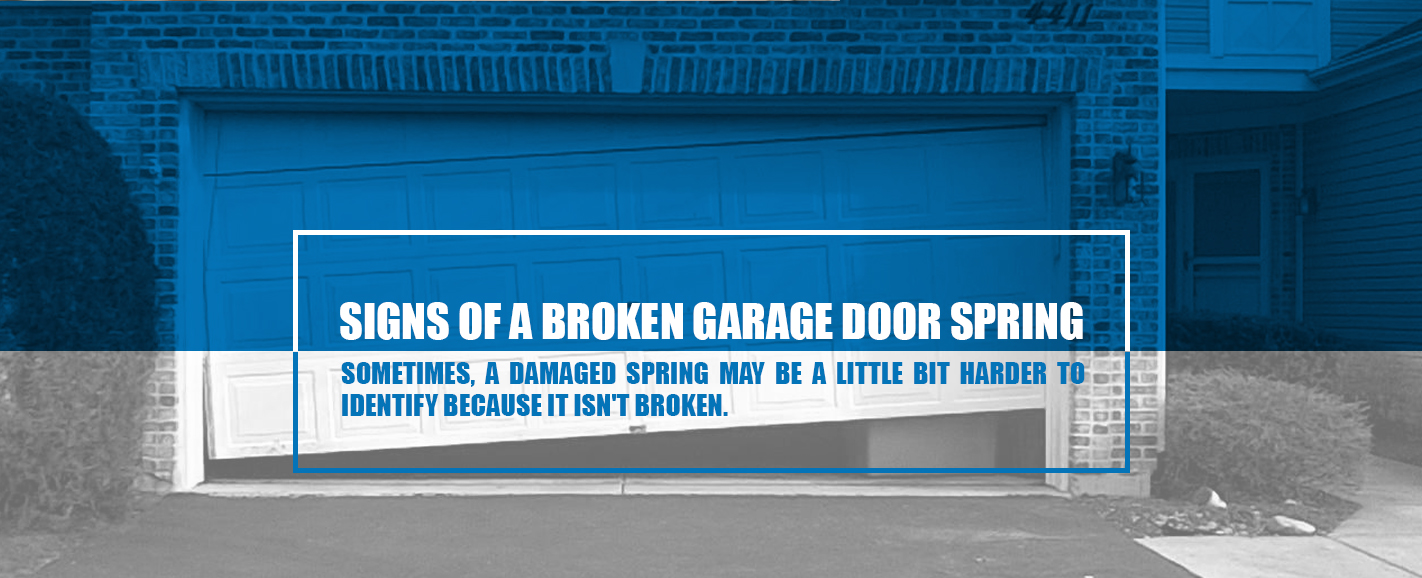 Sometimes, a damaged spring may be a little bit harder to identify because it isn't broken. In those cases, it takes some exploration to find the problem. That's not usually the case with a broken spring. Trust us — if your spring breaks, you will know it. When a garage door torsion spring snapped, it will make an extremely loud, distinct bang — akin to the sound of a gunshot — because of the tension and pressure that build up in the spring. Because the torsion spring spirals around a shaft, you'll also hear the sound of the springs as they move around that shaft. The noises are loud and distinct, and you'll immediately be able to look up and see the break above your garage door.
If you weren't in the garage when a spring broke, it might take some looking around to identify the problem. First, check to see if the spring is visibly intact. If there is an obvious break, you have your answer. However, sometimes the break won't be clean, or the problem will be that the spring stretched out instead of snapping.
While looking at the spring itself can yield the most obvious answer, the garage door will also give some clues about the state of your spring. Take some time to look at the door to see if:
The top half of the door appears misaligned
The door opens a few inches and then slams down again
The cables attached to the springs are dangling
The door seems to be off-track or crooked
Any of these can be signs that your spring is damaged or broken. Later, we'll emphasize the importance of calling a reputable garage door repair company to repair and replace a broken spring. But, being able to identify the source of your problem can save you — and your repair tech — a lot of time and energy, which means you can get your garage door repaired and operating smoothly again in less time!
The way a door opens or closes can provide clues that a garage door spring is broken or damaged. While many people find they cannot operate their door when the spring gets damaged or broken, sometimes people can still get their door to move. If you are able to safely move your door without doing further damage to it, your door's movements can be helpful in identifying your problem. In general, you should look for these common signs that your garage door spring has snapped.
The garage door jerks as it goes up and down.
The door is crooked as it moves along the track and may become stuck in progress.
The door won't open, even when you activate the emergency release.
The door falls rapidly when you put it down.
The top of your garage door became bent when you tried to use the opener.
There is a gap between the rings in your torsion spring.
The door opens a few inches, then the safety mechanism stops it.
The door goes up more slowly than usual.
You override the electronic opener and the door is extremely heavy when you try to open it manually.
How to Open and Close a Garage Door With a Broken Spring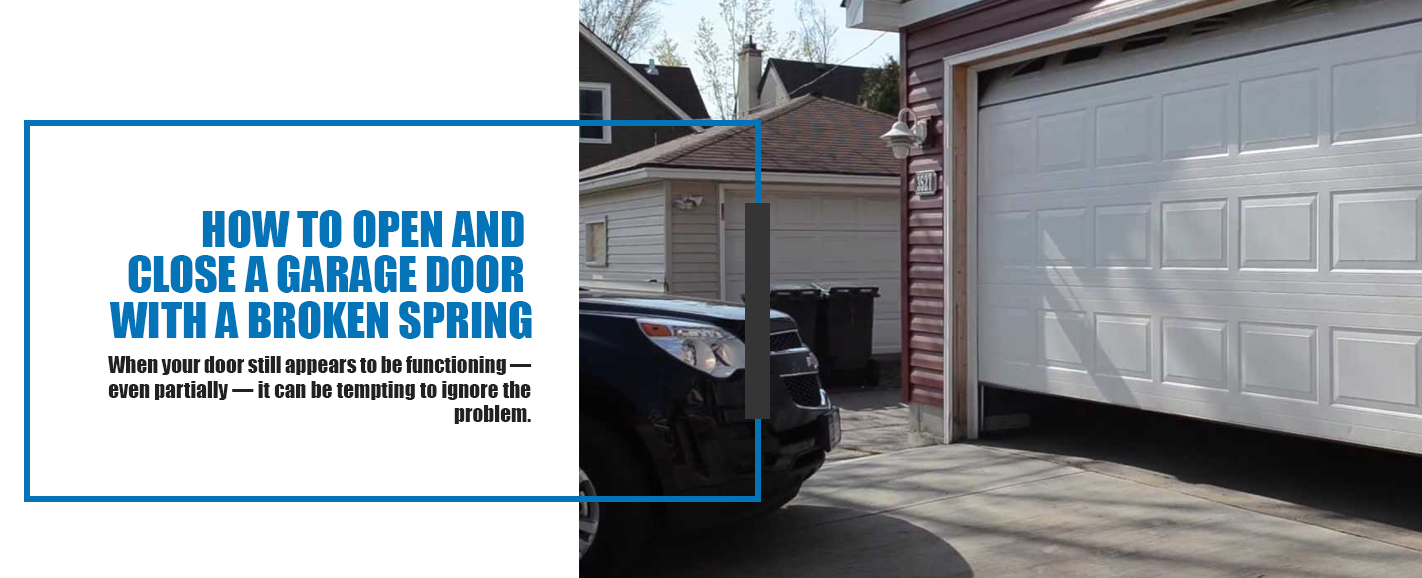 When your door still appears to be functioning — even partially — it can be tempting to ignore the problem. However, you should never ignore the signs of a broken garage door spring. Even if the door can still open and close enough for you to get your car out, allowing this problem to persist will result in further damage to your garage door and your garage door opener. If the damage is extensive, you may end up having to replace your garage door and opener, which is a much more expensive proposition than replacing a spring.
However, once you've identified the signs your spring is broken or damaged, you may have to wait for a little bit until a professional garage door repair company can make it out to your house. During that time, you may need to open and close your garage door. If you do, follow these tips to keep your family safe and prevent further damage:
If the door is in the open position, DO NOT use the manual override to disconnect it from the opener unless you have several strong, able helpers to catch the door and guide it safely down the track. If you detach the opener without help, this could cause your door to come crashing down, potentially damaging the door or, even worse, hurting you or another family member if they are in the way.
If the door is already open and you cannot close it safely, place something along either side of the track to "catch" it if the door falls while it is up. Choose something sturdy that can take the weight of your door. Remember, when you don't have the use of your automatic opener, your door's full weight is not spread out between the spring and the cables. It is all in the door itself. Make sure everyone in your household is aware of the problem, as well as the potential dangers, and ask them to stay away from the door until help arrives.
If your garage door is closed when you find a broken or damaged spring, it's best to keep it closed until a qualified garage door repair professional can arrive to evaluate the damage. If your car is inside the garage and you cannot wait for a repair person, never attempt to override the automatic opener unless you have several strong helpers to lift the door and keep it from falling on you or your car.
The bottom line is this: It's essential to be able to diagnose a problem with your garage door. It can be helpful to you in figuring out the steps you need to take to address the problem and finding a reputable garage door repair company to come out to fix the problem. However, the safest thing you can do for yourself and your loved ones is to secure the door as well as you can, then call for professional repairs.
Leave Repair and Replacement to the Pros
If you searched online, you'd likely come across several websites claiming they can instruct you in how to repair or replace your garage door spring. And, if you're like most homeowners, it can be tempting to save a few dollars and turn this into a DIY project. But, with the statistics out there about garage door-related injuries, it's just not worth the risk to you or your family. Why?
1. It's dangerous.
Your garage door is heavy. When the spring isn't working, it can't take the weight of the door. If the door comes crashing down, it can hurt someone in its path.
2. It's difficult to get it right.
Because a broken or malfunctioning spring is a safety hazard, there's no room for error. If you don't install it right, someone could get hurt, or you could end up damaging your garage door. Saving money is never worth the risk of hurting yourself or someone you love. If you suspect you have a damaged or broken garage spring, it's time to call the experts.
Request Garage Door Service Today
Providing quality service and repair in the Charlotte, N.C. area, RCS Carolinas is home to a team of experienced, well-trained professionals who are ready and able to diagnose problems with garage doors of all kinds — both residential and commercial.
While we are confident we can repair your garage door and have it working like new, if you decide it's time to replace your existing one, RCS Carolinas can help with that, too. Offering a variety of Clopay garage doors, our showroom has many great options if you're in the market for a well-designed, high-quality garage door.
Let us get your garage door working again. Give RCS a call and schedule your service visit today!
Painting a Garage Door in 6 Simple Steps
Painting a Garage Door in 6 Simple Steps
Taking up nearly 1/3 of the front-facing exterior of the average home, your garage door's appearance significantly impacts your home's curb appeal. A new coat of paint not only helps protect it from the elements but can refresh the look of your entire house.
Should You Paint Your Garage Door?
Some common reasons for painting a garage door include:
The door's existing color is faded, chipped, stained or otherwise deteriorating.
You've recently painted your house and want the garage door to complement or contrast the new hue.
Your property could use some sprucing up, but you want to avoid repainting the whole house.
You want to match the latest design trend or fit in with your neighborhood's overall style.
The good news is that you can paint a garage door without too much work involved — but there are a few caveats to consider:
Not every door is eligible for painting: Some doors consist of materials that don't pair well with paint, particularly metal. Most steel doors aren't painted but come from the manufacturer with a durable enamel-like coating you can't replicate at home. Some vinyl and wood doors could also pose a problem. For example, if a wooden garage door actually has a wood stain and is not painted, adding paint could have less-than-desirable results.
One wrong step could ruin your door: Choosing the wrong paint — such as one that's incompatible with your door's material or isn't high-quality enough to withstand the elements — or painting in the wrong place could permanently damage your door or render the paint job beyond repair.
You might void a warranty: In most cases, painting or otherwise altering your garage door could void the manufacturer's warranty.
Your door will require more maintenance: Garage doors come from the manufacturer with the best coating, paint and finish for their specific material makeup and application. While paint can freshen up its appearance, it will no longer be the same low-maintenance door you love since residential paint requires frequent upkeep and reapplication.
Consider if painting or replacing the garage door is a better option. Painting offers a quick, easy fix for outdated colors, but professional repair is a better fit if your door has significant cosmetic damage you're trying to cover up.
How to Paint a Garage Door
Here are the six simple steps to giving your garage door a fresh new finish:
1. Check the Weather
You'll need three days of mild weather between 50°F – 75°F with low humidity. When choosing your painting time, plan to work when the door isn't being exposed to direct sunlight, which can cause paint to dry unevenly or cure prematurely.
2. Choose Your Paint
The most important purchase for this project is the paint and primer. Select your coatings based on:
Your door's material: Your door's material — called its substrate — will likely be aluminum, steel, wood or vinyl.
The type of paint: Avoid oil-based formulas — a high-quality acrylic latex exterior paint is usually a good choice. Perform a small pre-test in a small, hidden part of the door by letting it dry and checking for any bubbling, chipping or markings. Check how easily the paint comes off with tape, scuffing and similar aspects. Always ensure the paint you choose is rated for outdoor use and can withstand sunlight, moisture and temperature fluctuations.
Your desired finish: Popular garage door finishes include flat, satin and glossy.
The paint's light reflective value: The light reflective value (LRV) is a numbered rating that refers to the paint's overall darkness or lightness. Some garage doors require specific LRV ratings — contact the door's manufacturer or your owner's guide for more information.
Choose a primer that's compatible with your paint and door type, preferably one with good bonding qualities. One gallon of paint and primer is usually enough to cover a two-car garage door with some left over for touchups. If you are painting a larger surface or putting a light color over a dark color, you may need more. Ask for help at your local paint store if you're not sure what you need.
3. Gather the Materials
Never use a bristled paintbrush on your garage door. Instead, opt for a spray-on paint or a small roller that works with the door's grooves and lines.
Other tools and supplies you need include:
A sponge
A garden hose
A biodegradable all-purpose cleaner
A wire brush and sandpaper
Clean towels or rags
Painter's tape
A drop cloth
A sturdy step stool or ladder
4. Clean the Surface
Use a biodegradable all-purpose cleaner to remove all dirt and dust thoroughly, then rinse the residue from the door with your hose. Do not sand your garage door. If there are rust spots, you may need to remove them with a wire brush and sandpaper.
5. Prepare the Door and Work Area
Don't forget to park your cars outside the garage, and remove anything you know you'll need that day before getting started.
After the door is completely dry, carefully tape off handles, hinges, windows, edges, etc. with painter's tape. Place one drop cloth on your driveway to protect it from drips and one inside your garage to protect the floor. If you're painting the trim and frame a different color, tape it off and paint that last.
6. Prime and Paint the Door
It's easiest to work on the door from the bottom up. To do this, disengage the electronic opening mechanism so you can move the door manually, then raise the bottom to a comfortable height so you don't have to kneel or stoop. As you work, carefully lower the door in sections so you are always painting at a comfortable height.
To prime the door, work from the inside of any inset panels to the outside of each section using a small roller on the panels and slanted insets, then a bigger roller on large, flat surfaces. Carefully wipe away excess as you go. Let the primer dry for at least 12 hours before applying the paint.
Paint from the bottom up again, using the same method that you used for the primer. Let your garage door dry for at least 12 hours before painting the frame and trim. Remove all tape once the door is completely dry and has cured.
Upgrade Your Garage Door With RCS Garage Doors
Looking for a completely new look — or maybe a totally new garage door? Contact RCS Garage Doors to learn more about the styles we offer!